IT Consulting
Strategic IT Consulting and IT Outsourcing for companies in Clermont, Groveland, and Minneola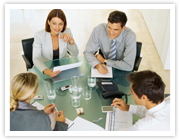 Is frustration over business technology dominating your time? When you get dynamic solutions from IT Consulting services you are back in control of your business.
THE iT Store offers IT Outsourcing and Virtual CIO (Chief Information Officer) services that streamline your technology with strategic planning and expert execution in Clermont and throughout Lake County.
THE iT Store can design an IT strategy for your business with:
IT Strategy - expert consultants identify the potentially damaging faults in your company's IT system to create a customized solution that's built to fit your company.
Application and Setup - our competent technicians will implement the perfect IT strategy for your business with thorough analysis and key vendor partnerships to make sure you get the highest quality IT for the long-term success of your business.
Technology Oversight - we customize and recommend security solutions keeping your system safe and secure from unfortunate disasters.
Let our team of experts reveal how a tailor-made IT infrastructure is the key to long-term success.
THE iT Store brings simple solutions with Virtual CIO and IT outsourcing so you can get back to more important matters. Serving Clermont, Groveland, and throughout Lake County, we advance your company with first class IT Consulting Services.
Whether you need network consulting, information technology consulting services, IT outsourcing, IT consulting services, outsourced IT, technical support services, computer security consultants, small business server consulting, and virtual CIO (Chief Information Officer) service, we've got the solution.
Our team of experts understands how to utilize your technology as a tool to get ahead of the competition. When you trust the guidance of an expert IT Consultant to find unique strategies for your company, you have one less thing to worry about.
---
Areas Covered
We provide a range of Computer Support, IT Services and Managed Services in Clermont, Groveland, Montverde, Mount Dora, Tavares, and throughout Lake County.