Office Moves & Wiring
Worry-Free Office Moving and Office Cable Installation services for companies throughout the Clermont, Groveland, and Minneola areas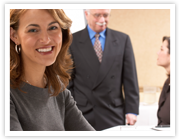 Are you concerned that moving your business will create downtime that might affect your bottom line? Our comprehensive office cable installation and office moving services will end your anxiety, with a meticulous strategy to make relocating your company more efficient than you ever imagined.
With office moving and network cabling services that are customized to meet your needs, THE iT Store can provide a strategic move for your technology that will have you back to business in Clermont and throughout Lake County fast.
The expert professionals at THE iT Store provide these office cable management services and office moving solutions for a stress-free move:
Office Cabling and Wiring - including fiber optics, for new construction or existing offices
Moving your business - including complete relocation of your entire network, servers, printers, and workstations
Relocation Coordination - of your Internet, Web site, email, and phone service cutover
Cabling Diagrams and As-Built Documents - to design a strong network foundation
If you are overwhelmed by the thought of relocating your business, leave the stressful IT planning and implementation to us.
THE iT Store is the partner you can count on for a simplified, stress-free office move. Serving Clermont, Groveland, and throughout Lake County, our office cable management services ensure a smooth relocation for your business as we expertly handle your technology.
Whether you need a plan for relocation planning, office cable management, network cabling analysis & design, communications & network cabling, office moving, or cable equipment/server racks, you know you are getting the very best in service and support.
As experts in the design and installation of strategic cabling plans, we provide solutions that will benefit your business for many years to come. Our office cabling services and office moving solutions are designed to grow and change with your business, so you know your IT infrastructure will be worry-free for years to come.
---
Areas Covered
We provide a range of Computer Support, IT Services and Managed Services in Clermont, Groveland, Montverde, Mount Dora, Tavares, and throughout Lake County.