Security
Network Security and Data Security for businesses similar to yours in Clermont, Groveland, and Minneola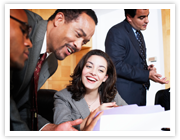 Is the nagging concern over your computer system being invaded by hackers, malware, and viruses holding you back? Are you ever haunted by the idea that a laptop or USB drive could be stolen or lost, effecting an internal threat?
With a bulletproof Computer Data Security solution created specifically for your unique business, you can rest easy knowing your business is safe from internal and external threats. Our Network and Data Security, combined with virus removal, malware, and spam protection services give you all the protection you need so you can focus on other priorities in Clermont and throughout Lake County.
Comprehensive security solutions from THE iT Store offer you:
Threat Detection - security from predators, hackers, and other online threats
Vulnerability Analysis - we find the possible faults in your network and show you how to repair them
Anti-Virus Protection - guard your system against the threat of viruses, spyware, and malware
Safer Login Options - involving password protection, encryption, and VPNs
With a security solution to protect all you've worked for, you can finally focus on what really matters - running your business.
The consultants at THE iT Store are experts in creating security solutions that will fully protect your company from all that's out there. With service in Clermont, Groveland, and throughout Lake County, we deliver top-notch Wireless Network Security solutions that relieve you of your worries about your company's safety.
Should your business require network security solution, web & email security, spyware protection, intrusion prevention service, computer PC protection, or internet and network virus removal, we can take care of it.
Daily use of the Internet by you and your employees puts your company at risk of a damaging break in your security. Time is of the essence - defend all you've worked for today with protection from our Computer Data Security and Virus Removal services.
---
Areas Covered
We provide a range of Computer Support, IT Services and Managed Services in Clermont, Groveland, Montverde, Mount Dora, Tavares, and throughout Lake County.